Laser marking can be implemented by inducing very different material reactions, for example by
heating, e.g. for black annealing markings on steel
material removal, e.g. for engravings on silicon or ceramics
layer removal, e.g. for the inscription of anodized aluminum
carbonization, e.g. for the blackening of polymers
bulk modifications, e.g. for the generation of localized micro-cracks or micro-dots
The application orientated choice of the right laser parameter (wavelength, average power, repetition rate, single pulse energy and fluence) is related to the desired material reaction, the required working field area and the maximum processing time available. We strongly recommend a sample marking test in our application laboratory. This service is free of charge.
Microscope image size ca. 4 x 4 mm²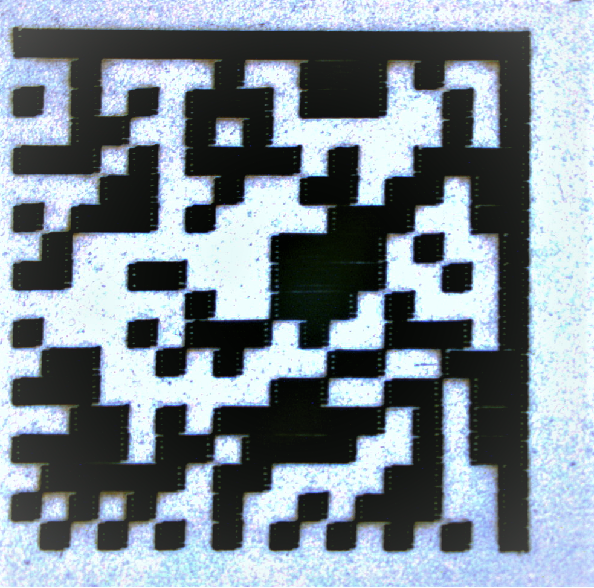 2D Coding of flexible Circuit Boards
Laser marking of a flexible circuit PI board. The depicted ca. 4 x 4 mm² 2D data matrix code was realized in ca. 0.1 s using a MONOLITH UV laser. The combination of high speed and excellent quality is the demanding factor in this application: there is no signature of any carbonization and the 2D code is easily readable.
Microscope image size ca. 1 x 1 mm²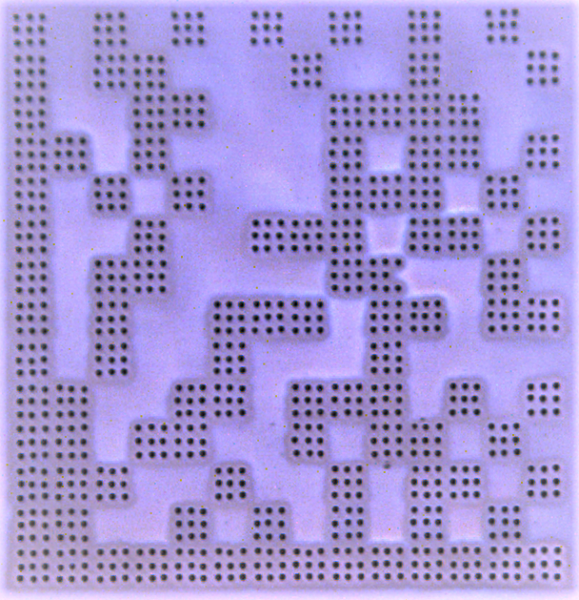 2D Coding inside Glass
Introduction of localized micro-modifications inside 1 mm thick float glass to receive a non-removable marking. The fabrication was realized by focusing the short-pulsed laser beam into the bulk of the glass. Every single laser pulse induces a micro-modification, to be seen in the microscope as a micro dot. The pre-defined distribution of these reproducible micro dots inside the glass yields the required 2D matrix code.
Microscope image size ca. 0.13 x 0.13 mm²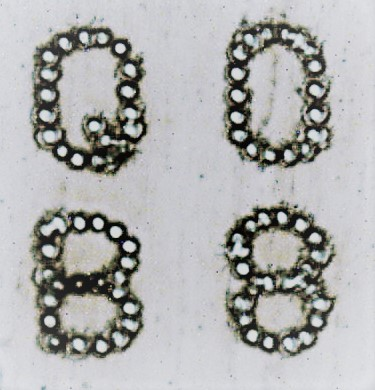 Inscription on Stainless Steel
The laser induced micro inscription "Q0" and "B8" in this example was realized on stainless steel using a MONOLITH UV-laser, to ensure small characters of only 50 microns in height. Minor aberrations in the type face are caused by inhomogeneities on the rolled steel plate.